As a visitor, all you need to do is drive in, park, and enjoy your stay. Our smart ANPR-camera system detects the license plates as the cars drive in, and start the session. You can pay for your parking session either before or after leaving the carpark: by using one of Simplyture's payment machines in the facility, and in some cases a mobile payment app or later online.
As a parking facility operator, our solution is so much easier and cheaper to install and maintain. As we have fewer movable parts and remove the need for tickets, Simplyture's cloud-based solution is also better for the environment. We integrate with a comprehensive and easy-to-use Administration Facility where you will have access to real-time overview of your carpark(s) and will be able to manage them to the smallest detail from anywhere you wish. It's that easy!
Smile – it's just parking!
Simplyture's solution is now even more present in the United Kingdom as we have just launched our free-flow system in three new facilities. We want to once again thank our friends in NCP for their confidence in our solution!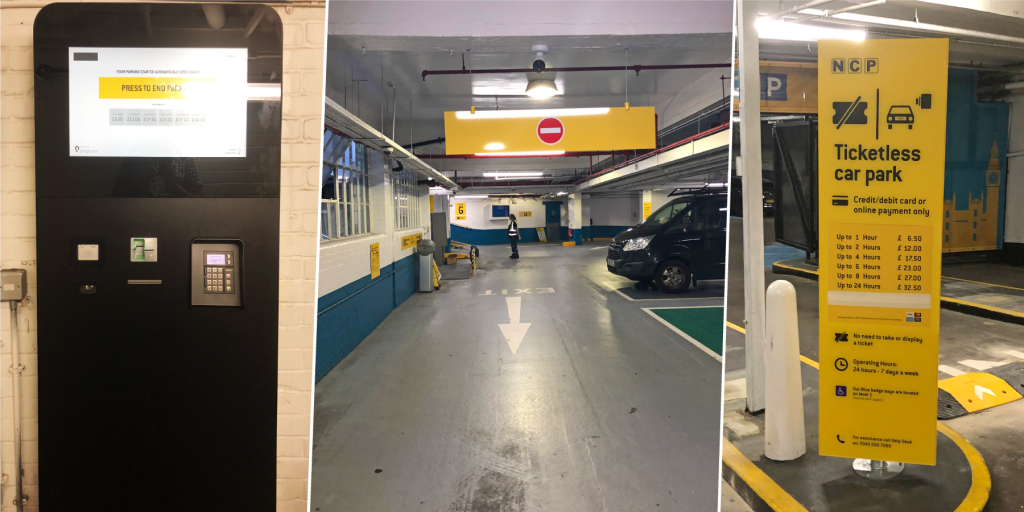 Simplyture's free-flow parking solution
London Thomas More Square
Thomas More is the first new site we are presenting you: with 170 parking spaces available, this carpark is conveniently located next to Tower Hill, so that you can park the car right in the vibrant city centre and enjoy the many stunning sights London has to offer. This facility has Simplyture's innovative Copenhagen Payment Machine, and if you want to pay from the comfort of your home, you can do so by heading to this page.
London Thomas More Square
1 Nesham Street, London, E1W 1YU
London Bloomsbury Square
With an awesome location in the heart of central London, Bloomsbury Square has 450 parking spaces available for all your needs: whether you are going for a stroll in the city centre, want to see a theatre show or attend a business meeting, this carpark is perfect for your needs. Other than our Copenhagen Payment Machine where you can easily pay for your parking session, we have also implemented two Access Control devices for easy access to the facility by foot. Online payment is also available after leaving, by accessing this page.
London Bloomsbury Square
Underground Car Park, Bloomsbury Square Gardens, London, WC1A 2RJ
London Marylebone Road
Another location in central London, the Marylebone Road carpark gives easy access to plenty of attractions, parks and transport links within short walking distance, from Baker Street to Madame Tussauds. Park in one of the 120 spaces to enjoy the fully free-flow parking experience and don't forget to pay for your session in the Copenhagen Payment Machine, or afterwards here. We have also installed Access Control devices for even more convenient entry and exit.
London Marylebone Road
170 Marylebone Road, London, NW1 5AR
If you are interested in learning more about Simplyture's seamless parking solution or either of these facilities, contact us: